Ensuring higher education is affordable and accessible to all Californians is a widely shared goal among policymakers. The rising cost of tuition coupled with increased housing costs, relatively stagnant wages, and decreased state support makes the dream of a college degree unattainable for many seeking upward social mobility. Even with state and federal financial aid, California's low-income students face significant unmet financial need at each of the state's public higher education sectors: the California Community Colleges (CCC), the California State University (CSU), and the University of California (UC). As the state wrestles with how to keep up with changing workforce demands, policymakers have been debating how to modify the state's financial aid program to better assist students with obtaining a postsecondary degree. This blog post outlines some of the key financial aid reform proposals legislators will be discussing this budget season.
California's Student Aid Commission (CSAC) supports students with financial need through the Cal Grant program. Cal Grants are the foundation of California's financial aid program for low- and middle-income students pursuing higher education in the state. Cal Grants provide aid for tuition and living expenses that does not have to be paid back. The current Cal Grant structure is confusing and overly-complicated, making it difficult for students to understand what and how much aid for which they are eligible. There are multiple different grants based on a student's GPA, institution of attendance, family income, time out of high school, academic goal, and age. Cal Grant A provides tuition assistance for UC and CSU students with high GPAs from generally middle-income families; Cal Grant B provides tuition assistance for students with moderate to high GPAs from low-income families and includes an "Access Award" which helps to cover living expenses; Cal Grant C provides tuition assistance to students who are enrolled in a career or technical program; and Middle Class Scholarship provides tuition assistance for UC and CSU students with family incomes and assets up to $171,000. This CSAC table illustrates the complex web of grant eligibility.
To better serve the needs of students, policymakers may consider expanding Cal Grant eligibility requirements to include more students, streamline and simplify the various components into a single program, or rework award calculations to focus on total cost of attendance rather than just tuition and fees, including food, housing, and transportation. CSAC has discussed several reform proposals, as outlined below.
1. Raise the Maximum Cal Grant B Access Award to $3,000
The Cal Grant B access award provides low-income students with a "living allowance" to help pay for basic expenses such as food, housing, and transportation. This award serves nearly 250,000 students each year but has not been adjusted to keep pace with inflation or living costs (which have increased significantly in recent years). In 1969-70, the original Cal Grant B access award was $900; if it were to have kept pace with inflation, today's grant would be worth $7,000. The 2018-19 maximum award is $1,672, covering just a fraction of student's living costs in every region of the state.
CSAC has discussed proposals to increase the maximum Cal Grant B access award to $3,000, an 80% increase over the current award. This proposal would cost $300 million annually and help over 250,000 low-income students make ends meet.
2. Consolidate All Cal Grants and the Middle-Class Scholarship Into a Single Program
As noted above, there are several different grants with different requirements and limitations. This patchwork of grant types and eligibility creates complexities for students, CSAC, and schools, and reduces the effectiveness of the program, as noted in a report by the Century Foundation. In addition, the eligibility criteria are structured in a way that leaves many students just short of qualifying due to the "cliff effect," whereby students either receive a full award or nothing, as represented by the green line in the CSAC chart below, showing a steep drop in award amount for the Cal Grant A and B and Middle Class Scholarship for those with family incomes just over the income limit.
---
The Cal Grant "Cliff Effect"

Source: California Student Aid Commission
---
These components could be consolidated into a single unified Cal Grant available to students attending all eligible institutions, with award amounts that phase out as income levels increase (depicted by the yellow line). This conceptual model would cost $660 million annually. This proposal would not expand the number of students served but would provide more assistance to students from families with the lowest incomes and scale down financial aid as family incomes increase.
3. Make Cal Grant an Entitlement Program for All Students
There are two Cal Grant eligibility pools: Entitlement grants and Competitive grants. Entitlement grants are guaranteed to all California students who meet certain income and GPA requirements and apply to college no later than one year after high school graduation and to community college students who are transferring to a four-year college. Students who meet the income, age, and GPA requirements and apply for the award by the deadline more than a year after high school graduation are eligible for Competitive Cal Grants. The main difference between Competitive grants and Entitlement grants is that Entitlement grants are guaranteed to all eligible students, whereas Competitive grants are currently limited to 25,750 students.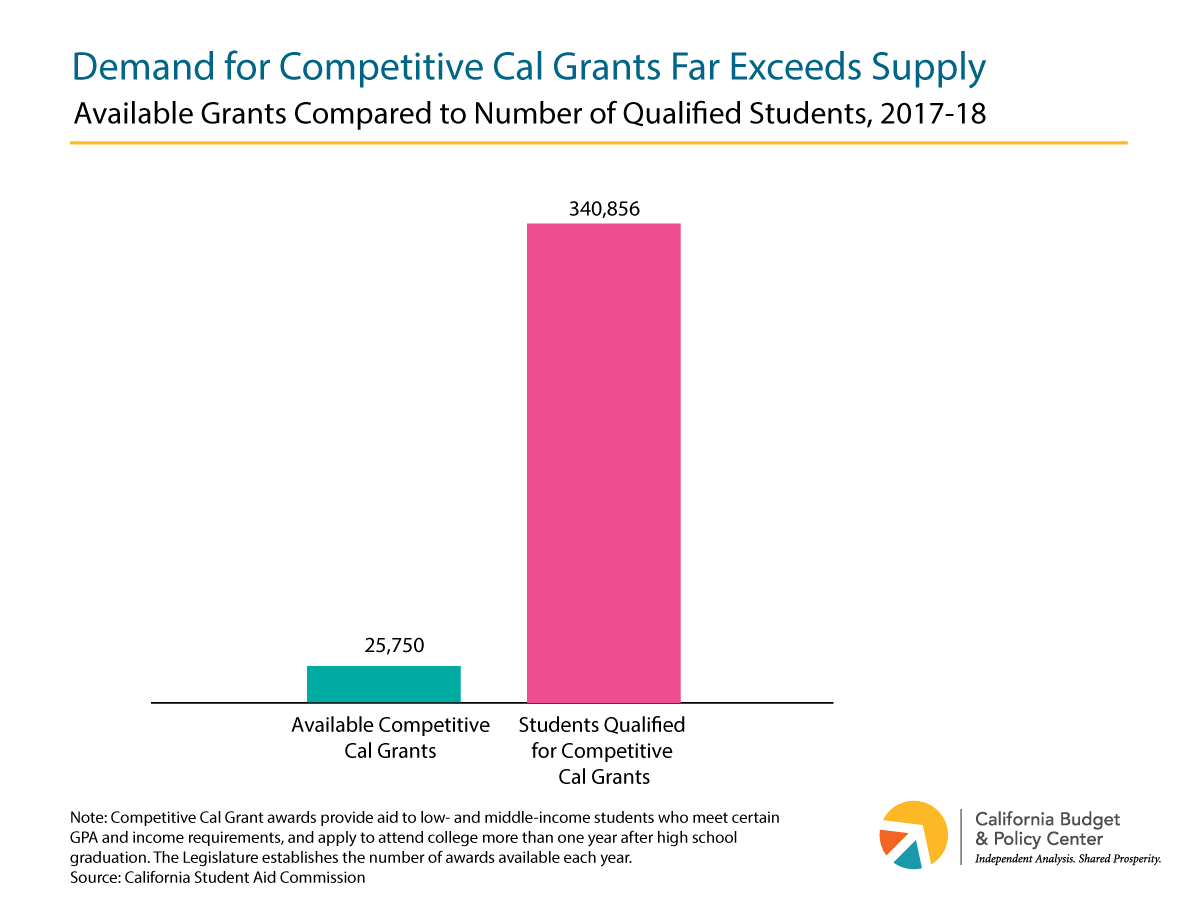 Eliminating all age and time out of high school limits would effectively make Cal Grants an entitlement for all students who are currently competing for a competitive grant. CSAC estimates that at current award and tuition levels, this proposal would cost approximately $1.39 billion annually. If this proposal included the suggested Cal Grant B Access award increase of $3,000, it would cost about $1.94 billion annually and impact approximately 217,000 students — the majority of whom are CCC students.
In addition to eliminating age and time out of high school eligibility requirements, CSAC has discussed proposals to remove the minimum GPA requirements. Current law establishes three minimum GPA thresholds for three different components of the Cal Grant program, the minimum of which is 2.0. CSAC has not provided a cost estimate of this reform but notes that it received approximately 16,000 applications from students with GPA's below 2.0 in 2017-18. However, many more students could apply if the GPA requirement were lowered.
4. Align Federal and State Formulas to Determine Cal Grant Eligibility
Currently, each Cal Grant program has an income eligibility ceiling and eligibility for the grant is based primarily on a student's family income and assets (as shown in the table below). This method does not take into account the student's or family's ability to contribute to college expenses or their unmet financial need.
---
Source: California Student Aid Commission
---
Alternatively, federal financial aid eligibility is based on a student's unmet need, as determined by the Expected Family Contribution (EFC). The EFC uses a complex formula that considers student and family income and assets and adjusts for state of residency, living arrangement and employment status, and age of the parent or student to produce a dollar amount that the government expects a family and student to be able to contribute — for very low-income families this number may be $0.
To better estimate a student's need for financial aid, CSAC could conform to federal aid eligibility by using the EFC model rather than income- and asset-based eligibility. CSAC notes that this administrative adjustment would have a minimal fiscal impact on the state, may simplify Cal Grant for campus financial aid administrators, and would increase grant aid to most low-income students.
In addition to replacing the current income- and asset-based eligibility measure with an EFC model, CSAC could also develop a cost-of-living adjusted EFC that takes regional variations in living expenses into account, as living expenses vary widely in different regions of the state.
5. Expand Cal Grants Beyond Tuition
Currently, state student financial aid is linked primarily to tuition and largely fails to assist students with other major costs of college attendance, such as housing, food, and transportation. The tuition portion of the Cal Grant A and B award covers 100% of tuition and fees at the UC and CSU ($12,570 and $5,742, respectively). While these grants provide some of the most generous state aid in the nation, they do not benefit California's community college students and do not address students' greatest expenses: living costs.
While housing costs vary, state aid to support students' basic needs remains constant (and low) across the state. The maximum Cal Grant B access award of $139 per month, combined with the maximum monthly CalFresh assistance of $192, covers less than one-quarter of basic housing and food costs in two of California's highest-cost regions: Los Angeles/South Coast and the San Francisco Bay Area.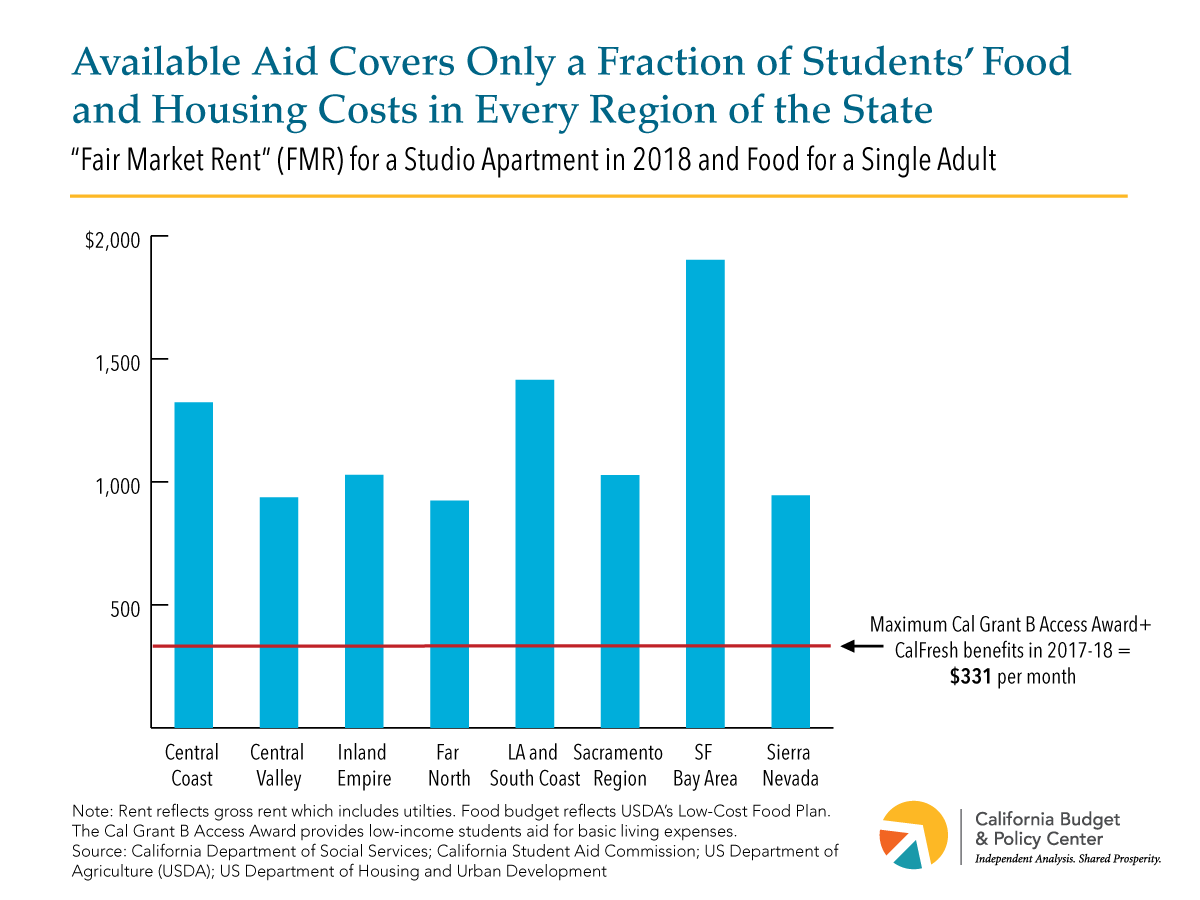 To reduce the gap between students' basic needs and available support, CSAC could expand its financial aid model to focus on the total cost of attendance, rather than just tuition and fees, through a "shared responsibility" model. In a shared responsibility financial aid model, the state covers students' remaining unmet financial need after taking into account selected federal grants, an expected parent contribution, an expected student contribution from work earnings, and any currently available state and institutional aid. If the state were to cover the unmet financial need of all qualified students — based on current estimated enrollment levels at the CCC, the CSU, and the UC during the 2018-19 academic year — the program would cost approximately $1.8 billion per year. Alternatively, policymakers could choose to focus new state resources solely on low- and middle-income students, rather than all students, in which case total costs would be lower.
Conclusion
Efforts to address students' unmet financial need have progressed through increased state, federal, and institutional support, but there is still considerable room for improvement. While policymakers consider options for reforming the state's financial aid system, they should keep in mind that current financial aid sufficiently covers tuition and fees for some students and not for others, and fails to support students' greatest need: living costs. Adjusting Cal Grant eligibility requirements, streamlining program components, and reworking award calculations would better target California's financial aid program to students with the greatest need. While financial aid reform may take significant investments and administrative changes, California's students and economy cannot afford to wait.
— Amy Rose