California's decision to create a state Earned Income Tax Credit — the CalEITC — was one of the most important advances our state has made in recent years to improve economic security among working families in poverty. Each year since it was established, the CalEITC has helped hundreds of thousands of families who earn little from their jobs to better afford basic necessities.
Unfortunately, however, the majority of families who've claimed the CalEITC have not received the full benefit of the credit because they've paid commercial tax preparers to file their taxes. Last year, 56% of families claiming the CalEITC paid a preparer (not including families who purchased software to file), according to the Franchise Tax Board (FTB). And as of March 31st this year, that figure had risen to 61%. CalEITC recipients' high reliance on commercial preparers is not surprising considering that nearly two-thirds of Californians who claim the federal EITC pay to file — the second-highest share in the nation, according to the Brookings Institution.
These figures mean that the majority of families who've claimed the CalEITC have likely lost a substantial portion of their tax refunds to tax prep fees. Paid preparers are rarely forthcoming about how much they charge, but studies find that families who claim the federal EITC typically pay several hundred dollars just to file (see for example here and here). In fact, one of the most highly used commercial preparers reportedly charges additional fees per form filed, as documented in It's Not Like I'm Poor, and the National Consumer Law Center also reports that tax preparers generally charge by form. In fact, some commercial preparers admitted in a small-scale study by the Government Accountability Office that the federal EITC form is the most expensive to file. As a result, families may pay more to claim refundable tax credits like the CalEITC, federal EITC, and federal Child Tax Credit — each of which requires a separate form — than they would if they didn't claim these credits. Plus, many commercial preparers charge "add-on fees" for additional products and services, such as "document processing," e-filing, and refund anticipation checks (RACs), which allow tax filers to have their filing fees deducted from their tax refund so that they don't have to pay the fees the day that they file.
Given that the average family with children qualified for $850 from the CalEITC last year, they would have taken home only about half to three-quarters of this amount if they paid $200 to $400 in fees to file their taxes. While these fees would represent a smaller share of their total state and federal tax refund since many CalEITC recipients also benefit from the federal EITC and Child Tax Credit, this is still a huge loss for a family living paycheck to paycheck and counting on every penny of their refund to help pay for basic necessities. It's also a loss to California because it means that a notable share of what the state spends on the CalEITC isn't reaching the families it's intended to reach. If CalEITC recipients who paid to file their taxes last year spent an average of $300 on filing fees if they had dependents or $175 if they did not, then more than $50 million of their total refunds went to commercial preparers instead of to the filers themselves. This is equivalent to over one-quarter of what the state spent on the CalEITC last year. (This calculation assumes that 57% of those who paid to file have dependents — the same share of all CalEITC recipients with dependents.) In other words, high use of commercial tax preparers is not only diverting significant sums away from families in need, but is also undermining California's objective in creating the CalEITC: "to reduce poverty among California's poorest working families and individuals."
Expanding Free Tax Prep Services, Such as VITA, Would Allow More Families to Fully Benefit From the CalEITC and Help California's Investment in This Credit Reach the Right People
Fortunately, a readily available policy solution — expanding free tax preparation services — would allow more families to receive their full tax refunds and better target California's investment in the CalEITC to the families it's intended to reach. Families who are eligible for the CalEITC or federal EITC typically qualify for these services. However, very few use them in part because free sites lack the funding needed to serve anywhere close to all the filers who are eligible for assistance. Last year, only 2% of Californians who claimed the federal EITC filed through a free, assisted tax preparation service, such as a Volunteer Income Tax Assistance (VITA) site, where volunteers who are trained and certified by the Internal Revenue Service prepare taxes free of charge. (Data specific to CalEITC recipients were not available.)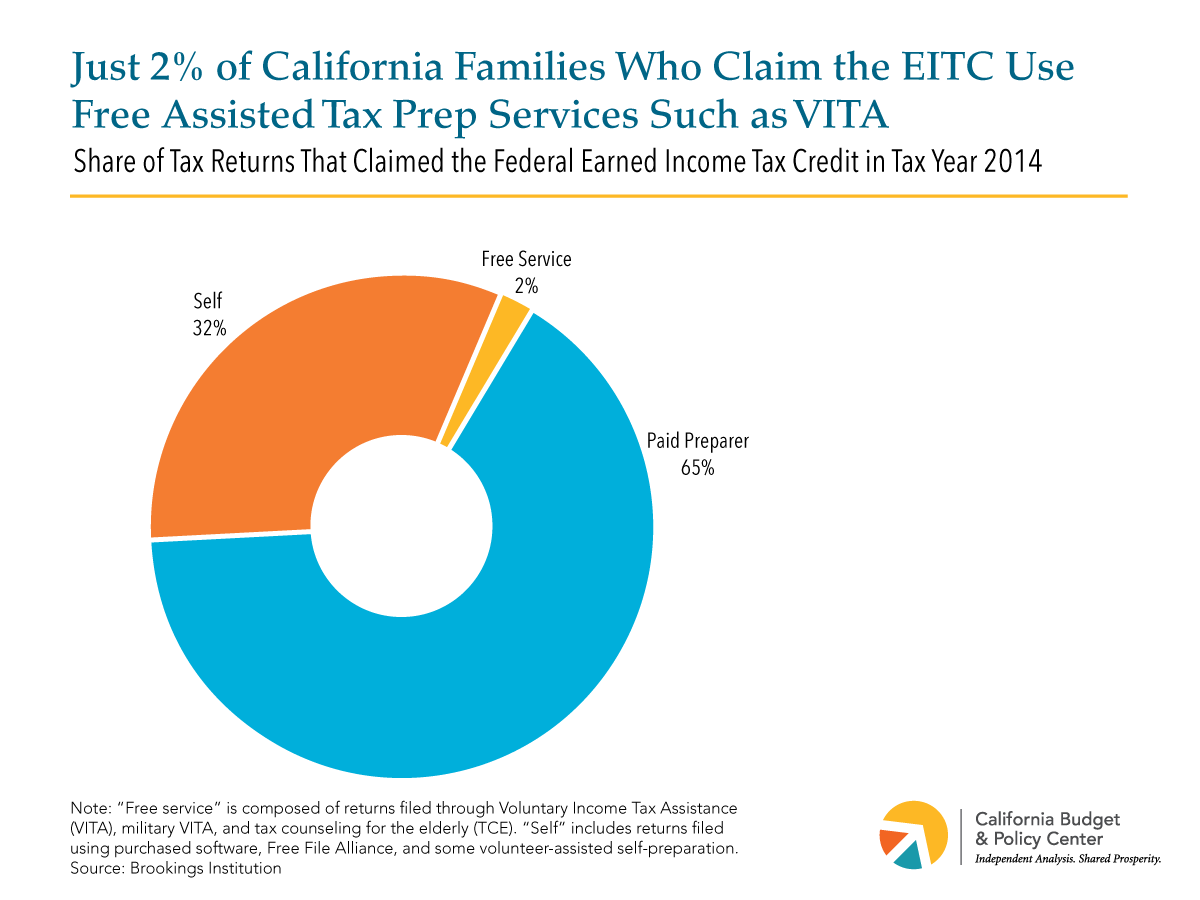 According to United Ways of California, which supports member United Ways that operate many VITA sites in the state, low use of free tax prep services reflects the fact that VITA sites lack the capacity to meet the demand for their services. For example, United Ways reports that:
Nearly half of California ZIP codes with the highest shares of households that are potentially eligible for the CalEITC have no VITA sites at all;
The majority of VITA sites can only offer services for limited hours — typically just 3 to 5 hours per day, 2 to 4 days per week; and
Appointments for services often fill up quickly, and walk-in clients often have to wait several hours, thus limiting sites' ability to accept additional clients.
VITA sites also lack sufficient funds to adequately advertise their services and compete with commercial preparers, which may help explain why few people who are likely eligible for the CalEITC are aware that free tax prep services are available, according to one survey.
A modest state investment in VITA would expand the number of free tax preparation sites in underserved areas of the state and allow existing sites to serve more clients by recruiting additional volunteers; extending their hours of operation; better advertising their services; and hiring site coordinators, who help sites run more efficiently and ensure quality tax preparation. United Ways of California estimates that each $100,000 invested in VITA would allow the program to serve an additional 1,500 tax filers. This, in turn, could save low-earning tax filers significant sums of money by providing an alternative to commercial preparers. For example, if a $1 million investment in VITA allowed an additional 15,000 low-income tax filers to use VITA instead of a paid preparer, these filers could save about $4 million collectively (assuming that just over three-quarters of these filers have dependents and save an average of $300 by switching from a commercial preparer to VITA, while the remainder — those without dependents — save an average of $175). To the extent that these additional tax filers served by VITA qualify for the CalEITC, California would directly benefit as well because more of what the state spends on this tax credit would go to the families the CalEITC is intended to benefit instead of being diverted to commercial preparers. The state would also benefit if more tax filers who qualify for the federal EITC and Child Tax Credit could access free filing services, regardless of whether they claim the CalEITC, because it would mean more federal dollars going directly into the pockets of California's low-earning families, who likely spend much of their tax refunds in their local communities.
Expanding VITA Would Provide a Range of Other Benefits to Families and the State
In addition to saving low-income tax filers money and increasing the impact of the CalEITC, expanding VITA would provide a range of other benefits to families and the state. For example:
VITA sites are far more likely to complete tax returns

accurately

compared to commercial preparers. In fact, VITA volunteers receive

special training

on the rules to claim refundable tax credits like the EITC, which perhaps contributes to their high accuracy rate. This suggests that if VITA could serve more tax filers, tax administrators may be able to spend less to investigate errors.
Many VITA sites provide low-income tax filers with information about other services that can help them make ends meet and advance, such as how to apply for food assistance or health coverage, how to open a bank account, the importance of saving, and where to receive financial coaching.
Better Promoting Free, Self-Filing Options Could Also Help Families Who Are Interested in Filing Their Own Taxes to Fully Benefit From the CalEITC
In addition to investing in VITA sites, California could also better promote free, online self-filing options, which tend to be underutilized. The FTB, for example, provides a free, online option called CalFile, but less than 2% of California tax filers used it in tax year 2012 — the most recent year for which data could be found — even though the vast majority of filers are eligible for it. Several other free, online options are available through the Free File Alliance, a coalition of private-sector tax preparation companies, but less than 2% of US tax filers use these services, while about 70% are eligible to use them, according to the National Taxpayer Advocate. United Way Worldwide also operates a free, online filing service — MyFreeTaxes.com — but a recent study found that the vast majority of low- and moderate-income adults who were surveyed were not aware of this service. (A similar website, MyFreeTaxes.org, operated by United Ways of California, allows people to schedule appointments at in-person free tax prep sites. It's unclear how many CalEITC recipients, specifically, use these free, online self-filing tools. The FTB reports that nearly one-third self-filed their taxes last year, but this includes filing with assistance from free or purchased software as well as filing at volunteer-facilitated self-preparation sites.)
While greater promotion of free, online-self filing options could reduce reliance on commercial tax preparers, it is important to recognize that many people prefer in-person filing assistance because they find filing daunting, particularly when it comes to understanding the eligibility rules for the EITC. Several studies (for example, here and here) have found that millions of people in the US, particularly those who claim the EITC, lack the skills necessary to fill out tax forms on their own. Plus, many people with low incomes have limited access to computers and primarily use their cell phones for internet access, which can make online self-filing difficult. In-person, assisted filing — or even facilitated self-filing — might work best for these individuals.
California Could Pair an Investment in Free Tax Prep Services With Additional Policies to Help Low-Income Families Benefit More at Tax Time
In addition to expanding free tax preparation services, California could help low-income families — including CalEITC recipients — benefit more when they file their taxes by:
Promoting free tax prep services in all CalEITC and federal EITC outreach materials. For example, California requires employers to notify workers of their potential eligibility for the CalEITC and federal EITC during tax filing season each year. Certain state departments and agencies are required to provide a similar notification to families and individuals participating in several public benefit programs. However, these notifications are not required to include information about how tax filers can access free filing services. Adding this information could help to increase awareness of free filing options and reduce tax filers' reliance on paid preparers. (A bill moving through the Legislature this year — AB 1942 — was recently amended to add this information to the employer notification.)
Providing support to county human services offices to help connect their low-income clients to free tax prep services. State funds could help counties finance text messaging services to notify clients about tax credits and free tax preparation services; support an EITC coordinator to raise awareness of the state and federal EITCs and connect clients to free tax prep services; or help counties operate VITA sites at their offices to facilitate free tax preparation for their clients.
Increasing the transparency of commercial preparers' fees. According to the

National Consumer Law Center

, "tax preparation is one of the few consumer services in the United States for which consumers often cannot obtain a price for the services before they incur them." This means that tax filers cannot comparison shop or make informed decisions about whether to file with a certain company. California could address this problem by requiring commercial preparers to delineate the exact fees charged for each tax form filed and for any additional products or services that are available before consumers agree to have their taxes prepared by that company. (For an example of what a fee disclosure could look like, see page 4 of this report.)
Requiring commercial tax preparers to indicate the total fees charged to each tax filer on a separate line on his or her state income tax form. This would allow the FTB to report to state policymakers the aggregate and average fees tax filers pay by income level, as a share of their state tax refunds, and among filers who claim the CalEITC. As aggregated data, this information would not identify the fees associated with any particular commercial preparer, but rather could be used by the state to assess the extent to which filing fees collectively across all preparers divert state tax refunds away from low-income families and individuals.
Automated Tax Filing May Be the Simplest Way to Ensure That Low-Income Families Get Their Full Tax Refunds, But Implementing It Has Been Challenging
Although the strategies discussed above would certainly help more low-income families avoid tax filing fees and get their full refunds, a simpler, more effective approach would be to automate tax filing. With voluntary, automated filing, tax agencies would complete tax returns for people with the simplest returns (such as those who don't itemize deductions) using filers' earnings information that these agencies already receive from employers and banks. Then they would send the completed returns to tax filers who could choose to sign and submit them with any modifications they'd like, or ignore them and file with their own preferred method. This approach would be far more efficient than the current filing system, which asks most tax filers to complete their returns using the same paperwork that tax agencies already receive and use to check returns after they are submitted. In other words, tax agencies would do the same work they currently do, but they would share their tax calculation before families file rather than after. This could completely eliminate the need for many families to file — and essentially avoid duplicating a task tax agencies already perform — saving families significant time and money.
Automated filing is an idea that's been around for decades, is used in 8 OECD nations, and was actually piloted in California in the early 2000s. The overwhelming majority of Californians who participated in this pilot, called ReadyReturn, said that it saved them time and money, was easy to understand, and was more convenient than their previous method of filing. The program also saved filers millions in tax preparation fees and was expected to save the state half a million dollars per year upon full implementation due to reduced processing and administrative costs. In spite of its clear benefits to tax filers and the state, the pilot was never scaled up. Instead, some features of the program were rolled into CalFile, the FTB's free, online filing service, but the key feature — sending filers completed tax returns — was discontinued. (For the history of ReadyReturn, see this recent Priceonomics article and this older Capitol Weekly article.)
The demise of automated filing in California is unfortunate. Such a program would not only allow families to avoid filing fees, but also could potentially boost the uptake of the CalEITC. Many people who are eligible for this credit have such low incomes that they are not required to file state income taxes and may not realize that they can get cash back from the state if they do file. Automated tax filing could boost claims among these "nonfilers" by making it easier to claim the CalEITC. (While it's unlikely that the FTB could calculate the CalEITC for families in advance since many of the credit's eligibility rules require information the agency doesn't have, the FTB could include a form to claim the credit with families' completed tax forms, along with a letter stating that they might be eligible for the credit and directing them to complete and submit the included form to find out if they are.)
Reestablishing automated tax filing in California would be valuable — particularly to the very low-income families who qualify for the CalEITC — but to be most effective, such a program would really need to be established at the federal level as well. Without a federal automated filing program, people who benefit from such a state program would still need to find another way to file their federal taxes. Unfortunately, efforts to establish an automated, free filing program at the federal level have never moved forward, as several ProPublica articles, including this one and this one, have documented.
Expanding and Promoting Free Tax Filing, Together With Increasing the Transparency of Tax Preparation Fees, Could Ensure That More Californians Get Their Full Tax Refunds
Low-earning families often look forward to tax filing season because they count on using their tax refunds to pay down debt, buy the essentials, or cover the cost of unanticipated expenses. But the fact that so many of these families pay commercial tax preparers to file means that they are likely losing a substantial share of the refunds that they are due. High use of paid preparers is particularly problematic for CalEITC recipients, who typically live on incomes well below the poverty line and simply can't afford to lose any of this vital tax credit. Since the simplest solution to this problem — automated tax filing at both the state and federal levels — is unlikely to be implemented any time soon, state policymakers could take other important steps toward a solution. A modest state investment to expand VITA, coupled with other strategies, such as greater promotion of both in-person, assisted filing and online, self-filing services as well as increased transparency of commercial preparer fees, could help more of California's lowest-earning tax filers, including many CalEITC recipients, get the full benefit of their much-needed tax refunds.
— Alissa Anderson