key takeaway
Homelessness among Latinx Californians has increased by 22% since 2020, more than three times the overall state increase of 6.2% over the same period.
Every Californian deserves a safe and stable place to call home. Yet, more Californians are pushed into homelessness faster than our systems can house them. From 2020 to 2022, the total number of unhoused Latinx Californians increased by 22% — a trend reflected in a rise in both sheltered and unsheltered homelessness. Overall, California's total unhoused population during the same point-in-time counts increased by 6.2%. This increase mainly reflected a rise in sheltered populations.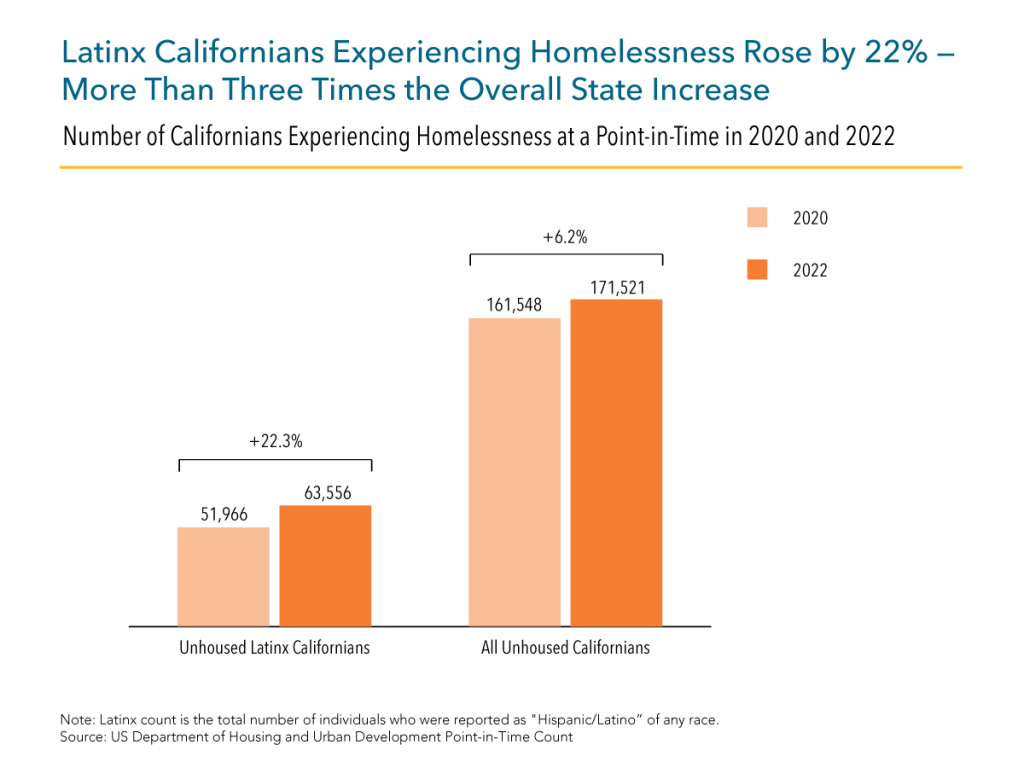 The sharp increase in unhoused Latinx Californians likely results from the inequitable compounding effects of the pandemic which exacerbated the economic and housing insecurity many communities of color already faced. Latinx Californians experienced high rates of housing hardship and unemployment and disproportionately worked in essential, low-wage occupations.1Aureo Dias Mesquita and Sara Kimberlin, Who is Experiencing Housing Hardship in California? (California Budget & Policy Center, May 2022); Sara Kimberlin and Alissa Anderson, In Good Times and Bad, California's Black and Latinx Workers Bear the Burden of Unemployment (California Budget & Policy Center, December 2022); Sarah Thomason and Annette Bernhardt, Front-line Essential Jobs in California: A Profile of Job and Worker Characteristics (UC Berkeley Labor Center, May 2020). They also confronted higher rates of COVID-19 infections and deaths during the first year of the pandemic, before COVID-19 vaccines and treatments were available.2Adriana Ramos-Yamamoto and Monica Davalos, Confronting Racism, Overcoming COVID-19, and Advancing Health Equity (California Budget & Policy Center, February 2021). Combined, the pandemic's deep economic and health ramifications made families and individuals more susceptible to not being able to afford their homes.
While all unhoused populations are generally undercounted, research shows that unhoused Latinx individuals are specifically underreported due to distinctive factors. Stronger reliance on social networks, lower utilization of homeless and public services due to information and service gaps, language barriers and mistrust, and increased likelihood of residing in nontraditional homelessness spaces or overcrowded housing means they are less likely to be captured in standardized counts.3Melissa Chinchilla et al., Increasing Latino Homelessness— What's Happening, Why, and What to Do About It (National Alliance to End Homelessness and the Homelessness Research Institute, January 2023); Melissa Chinchilla, Stemming the Rise of Latino Homelessness: Lessons From Los Angeles County (UCLA Latino Policy & Politics Initiative, 2019). Therefore, the trending increase in Latinx homelessness may signify an even larger, unseen need among this community.
As many Californians continue to struggle to stay in their homes or exit homelessness, policymakers need to keep investing in the evidence-based solutions that we know can end homelessness. These solutions require at-scale, ongoing investments in California's homelessness response systems and expanding the stock of affordable housing. Without this, the stark racial disparities we already see in our state's unhoused population will continue to grow alongside Californians who are pushed into homelessness daily because they cannot afford to stay in their homes.
Policy solutions should also be rooted in equitable interventions that build community trust and integrate culturally and linguistically competent practices. Ending homelessness for all Californians is possible if policymakers use the levers at their disposal to ensure everyone has a place to call home.