key takeaway
In February 2022, there were 437 unhoused Californians per 100,000 Californians statewide — the Los Angeles and South Coast region and the San Francisco Bay Area having the highest shares of unhoused individuals in California.
Having a place to call home is the most basic foundation for health and well-being no matter one's gender, race, or zip code. But thousands of Californians in all areas of the state fall into homelessness and experience its devastating health, economic, and intrapersonal effects daily.
Homelessness in California is a statewide challenge that affects individuals in every region and county — rural, suburban, and urban alike. In February 2022, the Los Angeles and South Coast region (49.9%) and the San Francisco Bay Area (22.2%) had the highest shares of unhoused individuals, based on point-in-time data, followed by the Sacramento Region (7.2%) and the Central Valley (7.1%). Smaller but notable shares of unhoused Californians reside in the Central Coast (4.7%), Inland Empire (4.5%), Far North (4.0%), and the Sierra Nevadas (0.5%).
Higher concentrations of unhoused Californians typically reflect the denser overall populations in their respective regions. For example, Los Angeles County alone is home to more than 40% of unhoused Californians in part due to its dense population, high living costs, and insufficient affordable housing — which is the primary driver of homelessness regardless of geographical region. Regions with denser, urban populations also tend to have more robust homelessness support and delivery systems which can better track the number of unhoused residents living in sheltered and unsheltered spaces.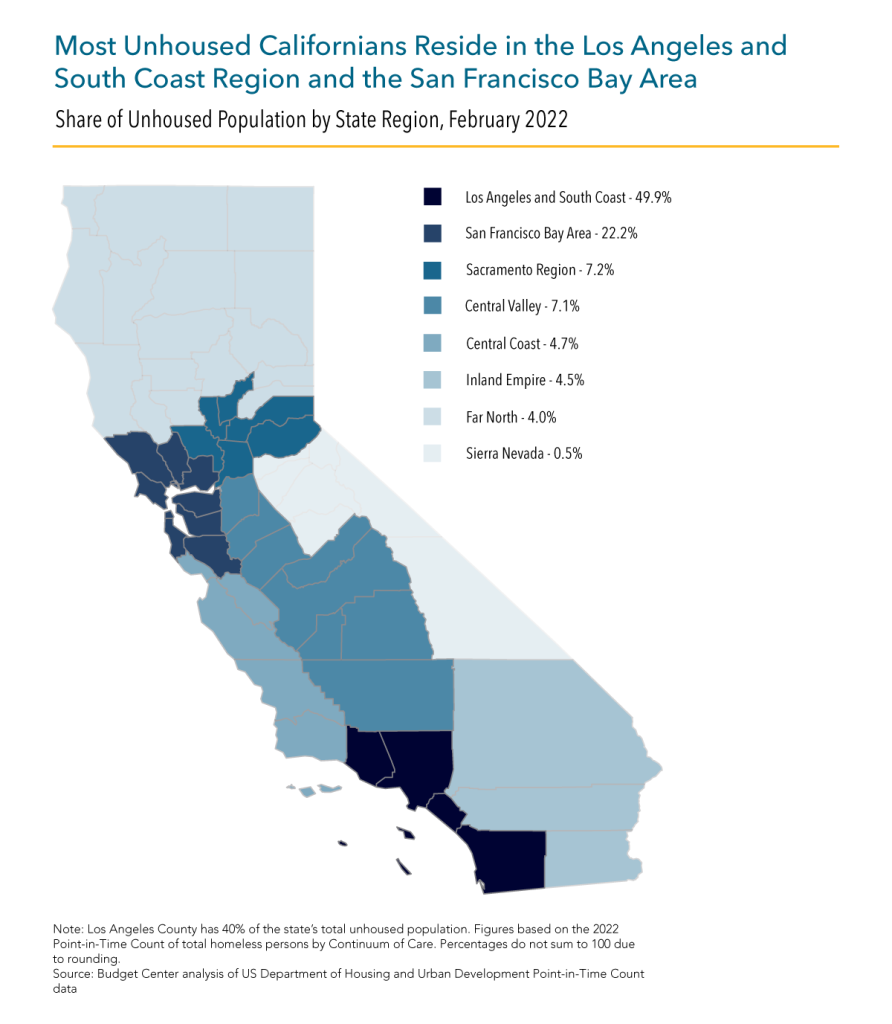 Another way to understand the magnitude of homelessness across the state is per capita — or per 100,000 Californians — by region. Homelessness per capita shows the prevalence of being unhoused at a point in time across regions with varing population sizes. For instance, per capita measures provide better insight into the magnitude of rural homelessness which can appear less notable through point-in-time counts. It also puts into perspective the number of unhoused residents in more densely populated regions where homelessness is typically more visible.
In February 2022, California had 437 unhoused people per 100,000 residents. The Far North had the highest per capita unhoused population with 647 unhoused residents per 100,000 residents in the region, followed by the Central Coast (540 per 100,000), despite these regions having among the lowest statewide shares of unhoused Californians. In contrast, the San Francisco Bay Area (503 per 100,000) and Los Angeles and the South Coast (477 per 100,000) regions rank closer to the statewide average in prevalence, despite ranking the highest by share. Homelessness was less prevalent in the Sierra Nevada, Central Valley, and the Inland Empire regions which aligned with their lower shares of unhoused Californians.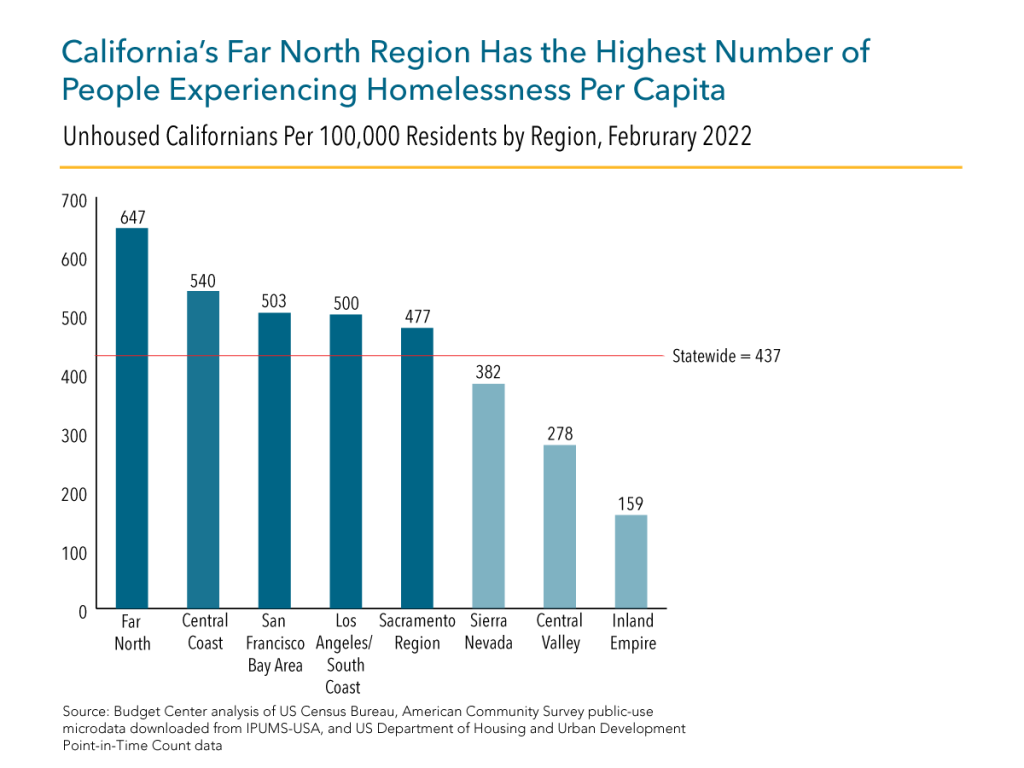 Comprehending the prevalence of homelessness, both in terms of regional share and per capita rates, is crucial to understanding how homelessness is affecting communities statewide. However, regardless of geographical region, effectively addressing homelessness requires us to continue building the capacity and resources required to meet the housing needs of Californians experiencing or at risk of homelessness.
Fundamentally this begins with deeply affordable housing, supportive services, rental assistance, and eviction prevention, all of which are evidence-based interventions the pandemic showed us state policymakers can rapidly mobilize to help people exit homelessness and stay in their housing.
Statewide planning and policy interventions need to also address the inequities among populations that disproportionately experience homelessness — within all regions of the state. These include Black, American Indian or Alaska Native, Pacific Islander, and increasingly Latinx Californians alongside adults without children, older adults, and LGBTQ+ individuals.
Above all, ending homelessness statewide is possible with persistence and sustained commitments by policymakers that represent all regions of California. By funding at-scale and permanent solutions, state leaders can ensure every Californian has a place to call home.