All Californians deserve to be able to put food on the table, pay the rent, and meet their basic needs. In short, no Californian should ever live in poverty.
Our state should aspire to be a place where no child or adult struggles to afford their basic needs, and there's proof that it can be a reality. Recent data released by the US Census Bureau show that poverty — especially for children — significantly dropped nationally and in California in 2021, and would have been much higher if not for public supports.
That's good news that may be unexpected as the effects of the pandemic and inflation are still very real for California children, adults, and families struggling to make ends meet. So many may be wondering: How did poverty rates drop across the US and California? And amid the pandemic no less.
The answer is simple: Poverty is a policy choice. When we choose to provide the basic support families and individuals need to thrive — as policymakers did via tax credits and other support — it really works.
What is the Supplemental Poverty Measure? And why is it important?
Public policies work best when they are crafted with reliable data and provide positive and measurable results at both the macro level and personal level for our communities.
To measure poverty in California and the success of poverty reduction strategies, we rely on data from the US Census Bureau which routinely surveys households across the country. Each September the Census releases new data that show what share of the population experienced poverty in the prior year — under the official poverty measure and the Supplemental Poverty Measure — for California and states across the country, as well as the United States as a whole.
The Supplemental Poverty Measure (SPM) is vital because it provides a more accurate picture of poverty by accounting for local differences in the cost of housing and accounting for expenses that families must pay like health care and child care. The SPM also accounts for a wide variety of safety net supports, including those that are not direct cash payments — including tax credits, food assistance, and housing subsidies. The official poverty measure does not adjust for differences in the costs of living and ignores non-cash benefits. This makes the official poverty measure less useful to evaluate poverty in California as well as the effectiveness of poverty reduction measures.
Bottom line: The SPM captures how much it costs to pay for basic needs and the resources people have available to pay for them.
Poverty dropped from 2020 to 2021 nationally and in California — what's behind the drop in poverty, especially for kids?
Multiple factors likely contributed to the drop in poverty year over year, including the improving job market. Data show too that strong public policies played an especially key role in the low poverty rates seen in 2021. To combat the uncertainties of the pandemic and our economy, state and federal governments provided additional support directly to people, and this made the difference for many families in having the resources to pay for food, housing, diapers, and other basic necessities.
Refundable tax credits were especially effective in boosting family resources in 2021, particularly because of temporary expansions of federal credits last year. Without these credits, overall poverty would have been significantly higher in 2021.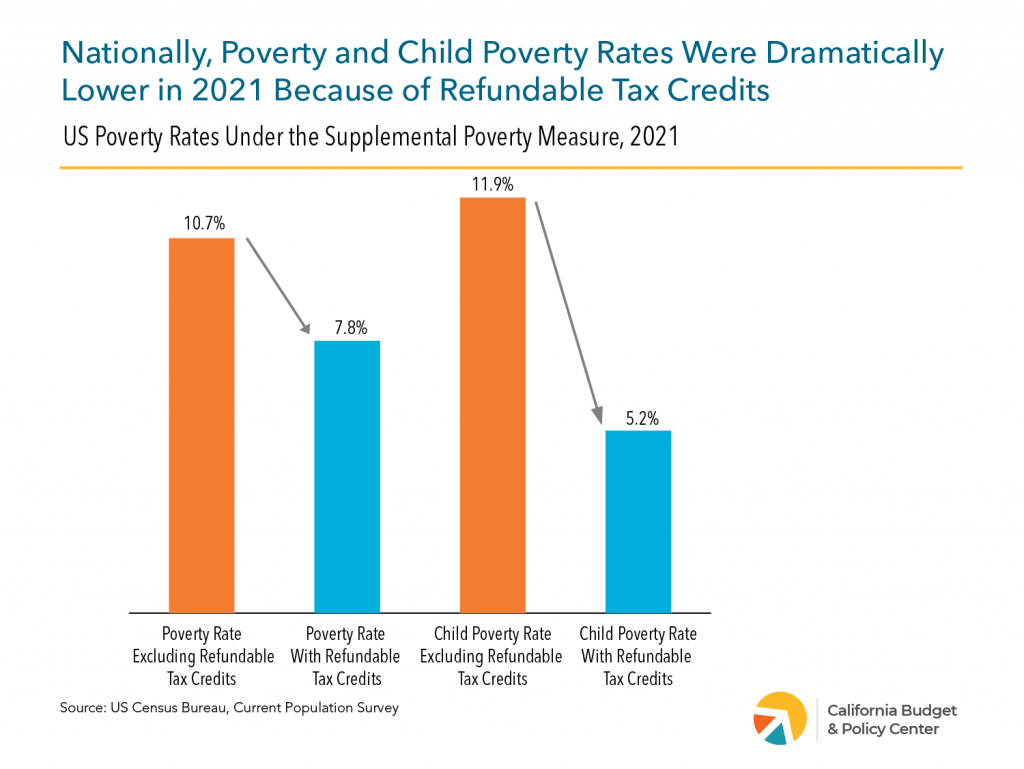 Unfortunately, the temporary expansion to the federal Child Tax Credit that lifted nearly 3 million children out of poverty nationally last year has now expired due to Congress' failure to permanently expand the credit. The temporary expansion of the federal Earned Income Tax Credit (EITC) for workers without dependent children has also expired. But the evidence is clear — federal policymakers can significantly lower poverty by permanently expanding the Child Tax Credit and the EITC and state policymakers can build on the success of California's refundable tax credits, the CalEITC and Young Child Tax Credit.
How did housing costs affect California's poverty rate?
There is no question safe, stable housing is the foundation to families' basic needs being met, yet the cost of housing is a challenge in many parts of the state — and high housing costs directly affect California's SPM poverty rate.
California's poverty rate in 2021 was higher under the Supplemental Poverty Measure than under the official poverty measure — and this has been true in every year that SPM poverty data have been available, going back more than 10 years. This is mainly because, as previously noted, the SPM accounts for local differences in housing costs, so that families need more resources to be categorized as above the SPM poverty threshold (and not experiencing poverty) in places where housing is expensive, which include many parts of California. These data point to another way policymakers can effectively reduce poverty — by addressing California's housing affordability challenges, through boosting the supply of affordable housing, protecting tenants, and providing direct support to help people afford housing costs.
Why does it matter for everyday Californians that the poverty rate dropped?
The lower 2021 poverty rate shows that our economy and safety net can work better for everyday Californians when good policy and investment come together to help people meet their basic needs. It reveals how many people can meet basic expenses like housing, food, child care, and other necessities — and it also reveals where our public policies are sorely failing.
A lower poverty rate under the Supplemental Poverty Measure means fewer families worrying about where their next meal comes from or wondering if they can keep the lights on. And while the encouraging Census data does not diminish the fact that the high cost of housing and recent high inflation have made it even more difficult for families to flourish in California communities, it does help us understand how we can build on public policies that work to help families now and in the future.
Poverty data from 2021 show that when increased state and federal support was provided, more people were able to count on having enough resources to make ends meet.
What were the primary forms of assistance people received to help meet their basic needs?
Safety net programs that help people pay for food, health care, housing, child care, and other basic needs are essential to the well-being of our people and state.
Current safety net programs — including those used to successfully lower poverty rates in 2021 — are a combination of state and federal supports aimed at helping individuals and families pay for basic needs. These programs can be divided into three categories including cash supports, tax credits, and non-cash benefits.
Cash support through tax credits: Federal Child Tax Credit and EITC, state CalEITC and Young Child Tax Credit, as well as child and dependent care tax credits and pandemic stimulus payments.
Other cash supports: Social Security, TANF (known as CalWORKs in California), Supplemental Security Income/State Supplementary Payment (SSI/SSP), Unemployment Insurance.
Non-cash benefits: SNAP food assistance (known as CalFresh in California), Supplemental Nutrition Program for Women, Infants, and Children (WIC), school meals, energy assistance, and housing subsidies like federal Housing Choice Vouchers.
Together, these programs significantly reduced poverty, particularly child poverty, in California in 2021.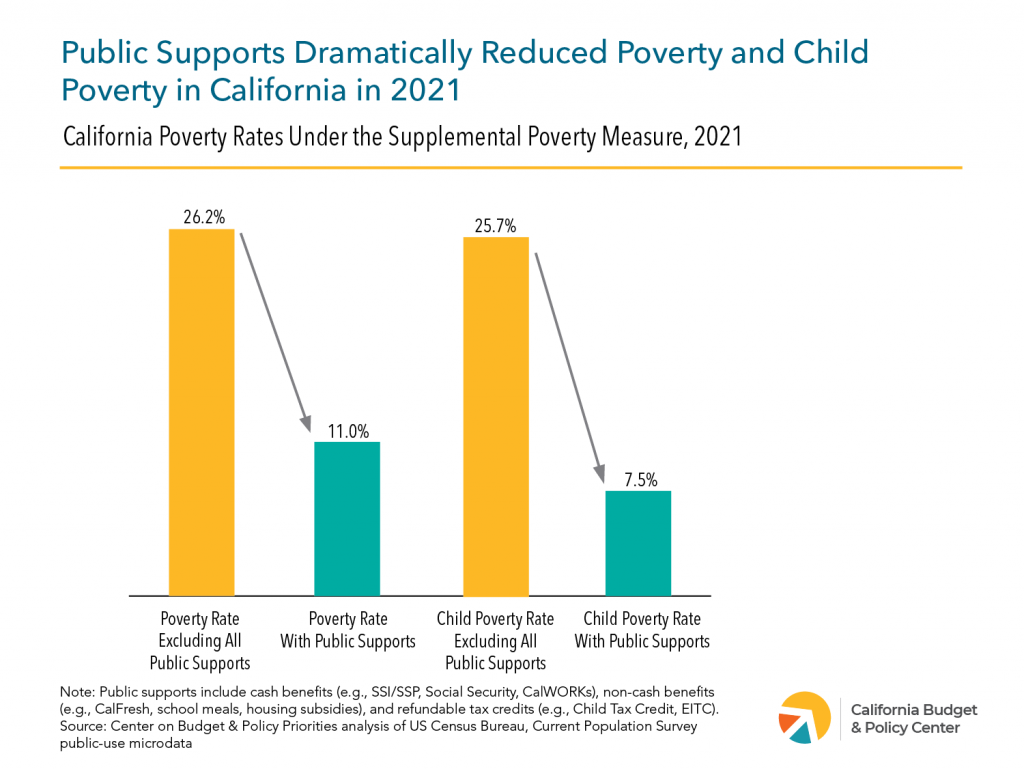 Additional programs that help reduce the out-of-pocket costs people must pay for necessary expenses — particularly Medi-Cal health coverage and subsidized child care — also reduced the number of Californians experiencing poverty last year.
It's important to remember that each program has unique and sometimes burdensome processes to receive assistance. Moving forward, policymakers should streamline and strengthen existing programs in order to further reduce poverty every year.
What can policymakers learn from the latest poverty data?
First and foremost, the latest Census data show us that poverty is a policy choice — we can choose to provide support needed so that families and individuals can thrive.
Federal and state governments have effective tools — like refundable tax credits — for getting cash to people and rapidly reducing poverty. When we prioritize the health and well-being of everyday people regardless of their race, age, or immigration status the result will be a country where far fewer people experience poverty and its devastating consequences.
State and federal policymakers should boost investment in the policies and tools we know are effective in helping families and individuals meet their basic needs to end poverty in California and across the country.